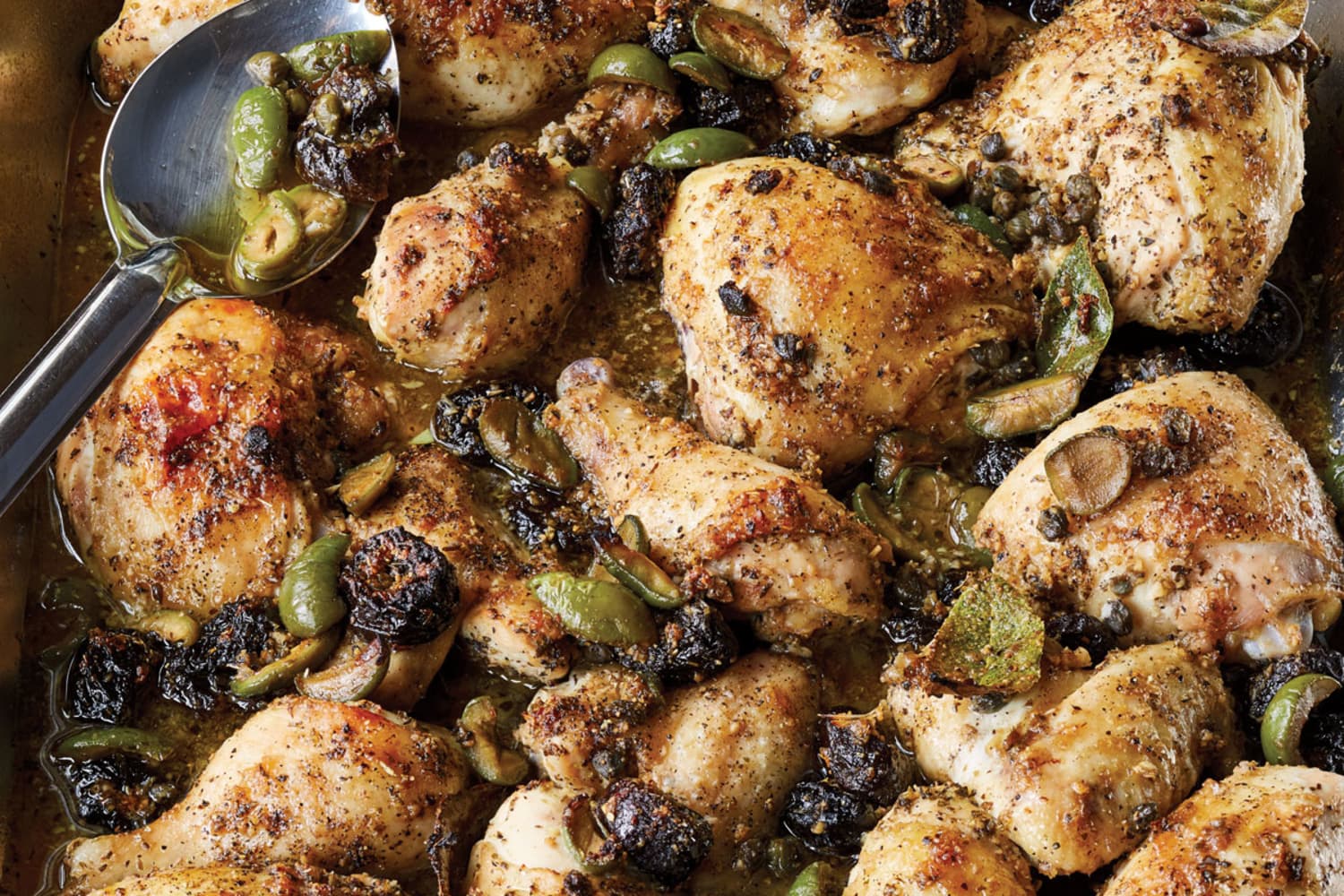 Foods
The 10 Ina Garten Recipes We Love to Make in the Fall
We independently select these products—if you buy from one of our links, we may earn a commission.
We're happy to make an Ina Garten recipe any day of the year, but there's just something about the fall season that really has us wanting to channel our inner Barefoot Contessa. Maybe it's because soon the days will get shorter and the air will cool, and we'll return to cranking up our ovens and craving cozy comfort food. Here are 10 of our favorite Ina recipes — the ones we always find ourselves turning to this time of year.
Ina's take on this classic recipe from the 1982 Silver Palate Cookbook is so retro and fun. There's a whole head-and-a-half of garlic involved, which means your kitchen is guaranteed to smell great as the chicken is cooking.
2. Balsamic-Roasted Brussels Sprouts
Fall is peak Brussels sprouts season. And while there are many ways to make them, we definitely have Ina's version — which involves salty pancetta and syrupy balsamic vinegar — on repeat.
3. Roasted Eggplant Parmesan
Leave it to Ina to make this Italian-American favorite even better. Here she swaps the frying for roasting and gets not one, but three cheeses involved.
4. Cider-Roasted Pork Tenderloins with Roasted Plum Chutney
What's great about this recipe is that almost all of the components can be made ahead of time. You can prepare the chutney as far ahead as you need, and start marinating the pork tenderloins the morning of, or the night before. Then at dinnertime, you just have to pop the tenderloins into the oven to roast.
Ina's chili stands out from the rest because she swap the beans for extra vegetables and she adds one surprise ingredient: basil. The herb might sound strange in chili, but it lends herbaceous brightness that can't be beat.
6. Triple Chocolate Loaf Cake
We definitely think three types of chocolate are better than one, and Ina agrees. This recipe makes two loaves, so it's perfect for gifting to a friend. (Or you can just freeze it for another day. We won't tell.)
7. Ina Garten's Roasted Vegetable Lasagna
The problem with most vegetable lasagnas is that when they cook, excess liquid in the veggies can make the dish watery. Ina's solution? Roasting the vegetables first. Not only does it make everything tender and succulent, but it also deepens the flavors, so it tastes rich and meaty.
8. Ina Garten's Wild Mushroom & Farro Soup
This hearty, rustic soup is exactly what we crave in sweater weather. Feel free to leave the pancetta out if you'd like to make it vegetarian.
If there's one person we trust to provide us with the perfect roast chicken recipe, it's Ina. We make this simple recipe well into winter.
10. Ina Garten's Chocolate Banana Crumb Cake
A banana cake feels right any time of year, but the chocolate-cinnamon streusel on this one is especially perfect for fall.