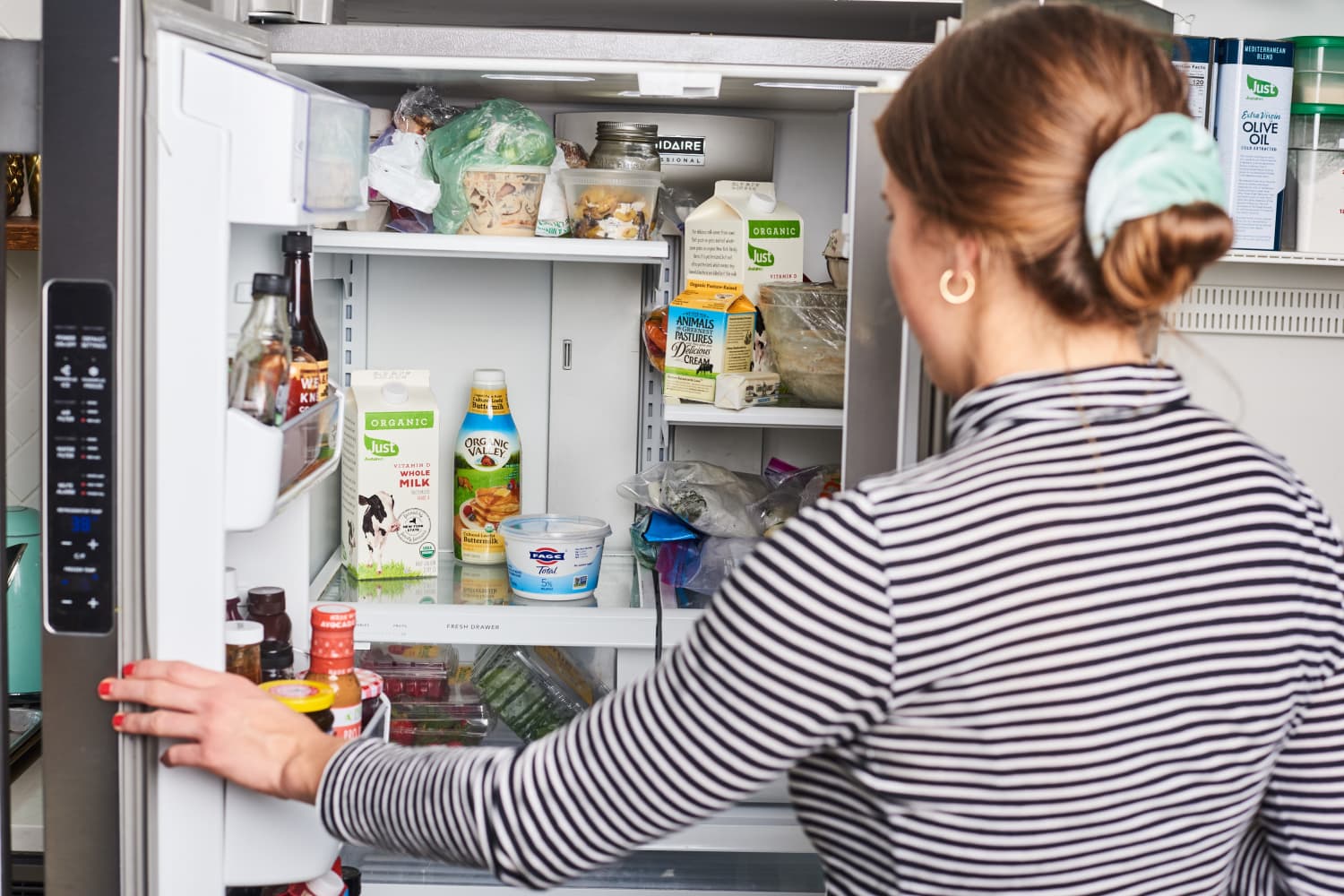 Foods
The 7 Best Organizers Kitchn Editors Have Bought for Their Fridges
We independently select these products—if you buy from one of our links, we may earn a commission.
Refrigerators come with built-in shelves and drawers, so I understand why most of you might not think to add any extra organizers. Of course, as you've probably gathered from the title of this post, Kitchn editors are firm believers in the power of bonus fridge organizers. With a beverage dispenser, cans will become easily accessible. A lazy Susan can round up condiments. And bins will keep small snacks from getting lost. Adding extra organizers to the fridge will not only help make the shelves look more Insta-worthy, but it will also help you waste less food and save money down the road.
Ready to transform your fridge? I asked our editors to share their favorite fridge organizers. Here's what they had to say.
1. iDesign Linus Soda Can Organizer with Shelf
"We drink a lot of LaCroix in my house and the cardboard boxes they come in do not hold up very well in the fridge (nor do they fit very well!). I love this organizer because it holds up to nine cans at once and has a shelf on top for more storage. Plus, it's clear so I know when it's time to refill!" — Lisa Freedman, Lifestyle Director
2. Made By Design Refrigerator Storage Bin Set
"I got tired of rummaging through my dairy drawer and swapped it out for a set of these bins instead. They helped bring some much-needed order to a very messy section of the fridge — the smaller ones are perfect for individual yogurt cups or kids' pouches, and the bigger ones hold the rest of our cheese collection. My favorite part is the handle, which makes it easy to pull in and out!" — Patty Lee, Executive Editor
3. Copco Cabinet Lazy Susan
"Okay, one more from me! I used to store my condiments on the shelves on the door, but I found it was way too easy to let things get out of control that way. No one needs a dozen bottles of mustards! I got this lazy Susan and put it on a top shelf. It helps me limit how many condiments we have open at any given time and it makes it easier to see each option. Pro tip: Put taller bottles in the middle and line up everything so that it faces out. This way, you can see all the labels as you spin!" — Lisa
4. mDesign Wine Rack Storage Organizer
"The biggest space-savers in my fridge are these stackable wine bottle organizers. The way my fridge is shaped, there isn't really a good place for tall bottles, but these let me stack a bunch in a small footprint." — Taryn Williford, Lifestyle Director at Apartment Therapy
5. Wilton Perfect Results 3-Tier Cooling Rack
"These stackable racks are useful for so much more than cooling cookies. I add them to my narrow side-by-side refrigerator shelves to double the storage space. It eliminates the game of Fridge Tetris and helps keep raw and cooked foods separate." — Patty Catalano, Contributor
6. iDesign Produce Bin With Lid
"I keep all my lemons and limes in one of these guys! I go through a ton of them (cooking! Cocktails!), and I love that they don't have to crowd a produce bin now that I have this container." — Riddley Gemperlein-Schirm, Tools Editor
7. mDesign Stackable Food Storage Bin
"Fruit smoothies are my go-to breakfast at least once or twice a week, so I like to be sure my fridge is stocked with plenty of yogurt on hand. I love these stackable containers with built-in handles for neatly storing all of my week's supply. It makes whatever flavor I'm searching for super easy-to-find!" — Michelle Lau, Kitchen Editor
Do you have a favorite fridge organizer? Share your pick in the comments below.