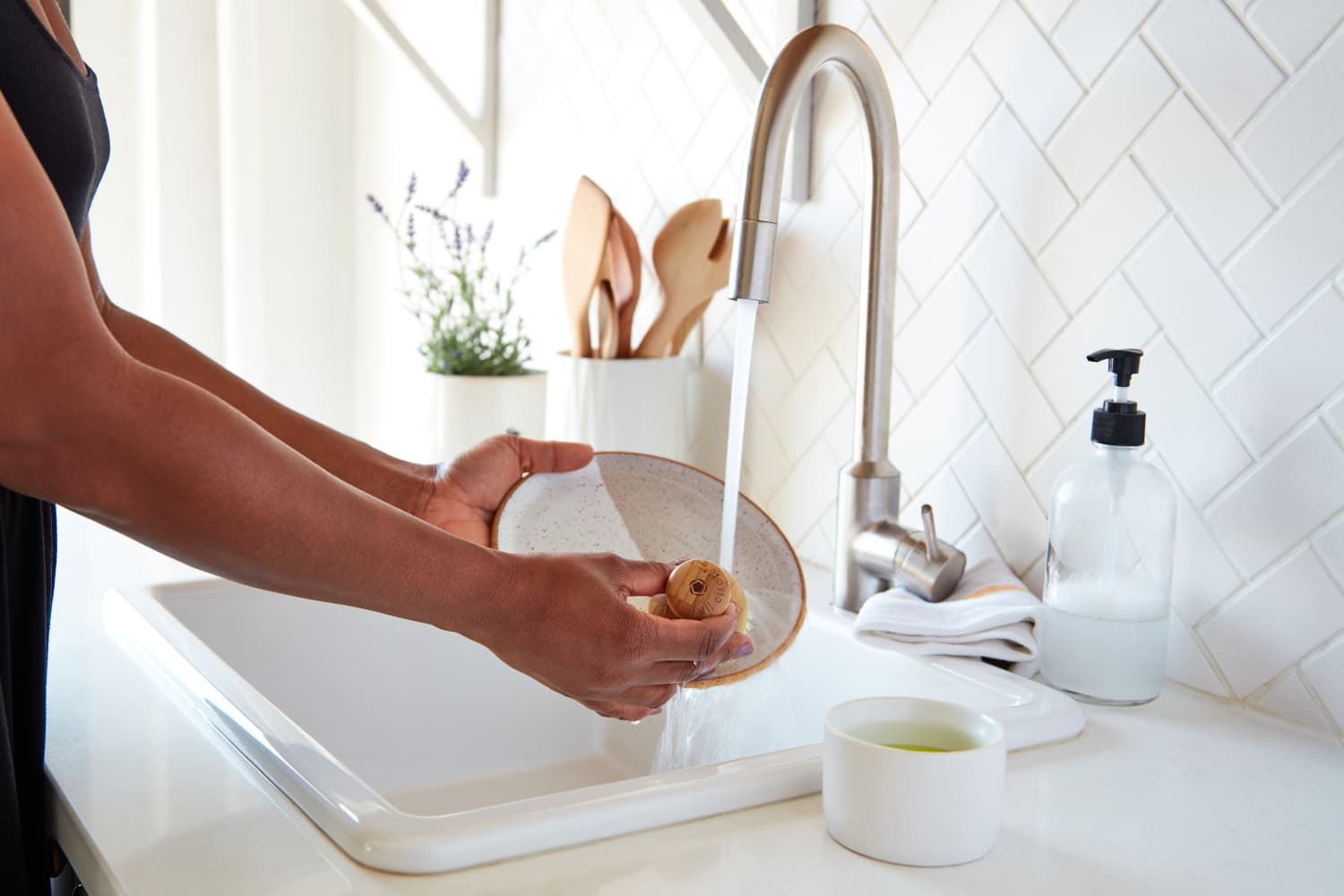 Foods
The $9 Amazon Find That Keeps Glasses, Bottles, and Lids Sparkling Clean
We independently select these products—if you buy from one of our links, we may earn a commission.
I'll admit, I'm not the best when it comes to cleaning my reusable water bottle. Every few days I give my bottle the old soapy shake. You know the routine: Add a drop or two of dish soap to the bottle, pour in a bit of hot water from the tap, pop on the lid, shake shake shake, then rinse. Until now, it's been a good enough solution for the Kleen Canteen I use every day, as well as the off-brand, flip-top bottle that I take to the gym. But, like a lot of people, I've gotten a bit more particular about germs, and I know my cleaning method is doing little to sweep away any bacteria, grime, and other nasty business that gets trapped in tall, narrow bottles. Plus, when you're cleaning an opaque container, you never really know if it's actually getting clean.
Luckily, there's an easy cleaning solution for people like me, and, no, it's not the dishwasher (I don't even have one!). HIWARE's genius 3-piece brush cleaning set is designed to reach deep into every nook and cranny of tall water bottles, travel mugs, lids, and even straws. It has an impressive 4.6-star rating on Amazon and — based on over 4,700 customer reviews — is a major upgrade from standard bristle bottle brushes. 
"We have tall drink bottles, reusable straws, and lids with hard-to-reach crevices," shares one customer, who adds, "This little brush set hits all the marks and is worth every penny!"  Rather than tightly packed, synthetic bristles, the head of the 14-inch bottle brush has silicone bristles that are spaced out to allow soapy water to get sudsy for effective cleaning, while letting water and debris flow through to prevent bacteria from building up. The flexible bristles bend to hug inner corners at the base and the crook of narrow-necked bottles, so no area is left untouched. One reviewer, who previously considered washing his water bottles and coffee tumblers a chore, says, "The brush quickly and efficiently makes short work of cleaning those bad boys out," and notes, "Since the brush is made of silicone there is no worry of mold, and it dries in less than 3 minutes."
The handle of the long brush is sturdy and naturally non-slip, so you can put a little muscle into cleaning without it bending or flexing, a common gripe about wire bottle brushes. Another fan of the brushes says "I will never buy an ordinary bottle brush again. The long handle is perfect for my Hydroflask." Among the numerous brands that get shoutouts in the reviews, S'well, Nalgene, YETI, and Siggs bottle owners all chimed in to share how well the HIWARE cleans their bottles. 
As you may have guessed, water bottles aren't the only vessels that benefit from a good scrub. If you drink coffee with any kind of milk or bring smoothies or protein shakes on-the-go with you, chances are the lid and straw of your favorite bottle, tumbler, or travel mug could use a deep clean. HIWARE's short, sturdy bristled brush and 10-inch long straw brush are designed to reach into areas that are notoriously hard to clean, like the threads on your bottle's cap, and inside your reusable silicone, stainless steel, or glass straws. "I use a lot of water bottles, protein shake bottles, and reusable straws and this helps keep everything clean!" says one reviewer. Others note that the brushes are perfect for removing buildup on coffee pot lids, and a dog owner shares that she uses the short brush to clean her furry friend's Kong chew toy which she fills with peanut butter. (If that's not a good endorsement, I don't know what is.)
No matter what you're cleaning with the brushes, they can be sanitized in the dishwasher, or simply hung from a hook or ring using the hole at the end of their handles. At under $10, the HIWARE brush set isn't just versatile — it's an affordable way to get peace of mind that you're actually cleaning your bottles effectively. As one happy customer reports, "I never had anything but the bottle brush you get at the dollar store. These are a dream!"